UKDC 2020 Online | Fri 11th – Mon 14th Sept
UK Dharma Celebration
Friday 11th – Monday 14th September
Teachings available: 2 weeks til 27th August
BOOK NOW: https://meditateinnorthants.com/product/uk-dharma-celebration/
During this special event, Kadam Bridget will grant the empowerment of compassion Buddha 1,000-Armed Avalokiteshvara and give teachings on Living Meaningfully, Dying Joyfully. Receive inspiring blessings and learn how to benefit yourself and others at this life-changing spiritual event.
Costs & Booking
Whole online event: £60
The teachings will be available online for two weeks, until the 27th September. When you book, you will receive a confirmation email containing links to watch the teachings; remember to check your junk mail folder if you don't see this email right away, and contact us if necessary. Keep your confirmation email, and follow the links it contains when it is time for the teachings.
Recordings (of the teachings only) will be available to order at the time of booking or later for a cost of £20.
The UKDC will leave you relaxed, inspired and spiritually re-energised.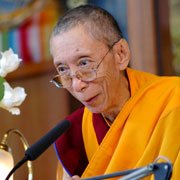 The UK Dharma Celebration (UKDC) is a special course on Buddhism and meditation that explains how to apply Buddha's teachings (Dharma) to modern living. The UKDC is a precious opportunity to study and practise the special presentation of modern Buddhism taught by Venerable Geshe Kelsang Gyatso, the Founder of the New Kadampa Tradition – International Kadampa Buddhist Union.
Taught by the National Spiritual Director of the UK Kadam Bridget Heyes, the Celebration is a holiday with a difference – giving you a chance to break free from the hectic routines of daily life and focus on the things that really matter.
About teachers: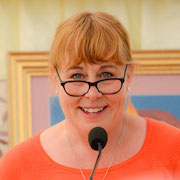 Empowerment & teachings
Kadam Bridget Heyes, the National Spiritual Director for the UK  is the principal teacher at Nagarjuna KMC & a senior disciple of Geshe Kelsang who has been practising for over 25 years. In 1994, she helped to found the Nagarjuna Centre and has been teaching here ever since. In 2009, Kadam Bridget was also elected as the NKT-IKBU National Spiritual Director of the UK.
Kadam Bridget is known for her powerful teachings, compassionate heart, and deep understanding of Buddha's wisdom advice. Her teachings are exceptionally clear and she presents profound ideas in a way that are easy to practice and integrate into daily life. Kadam Bridget shows an inspiring example for everyone on the spiritual path.
---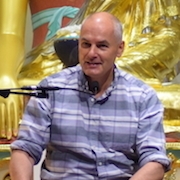 Introduction
Kadam Chris Heyes is the Resident Teacher of Nagarjuna Kadampa Meditation Centre in Leicester.  He is a dedicated student of Geshe Kelsang Gyatso and has been studying and practising Kadampa Buddhism for over 27 years.
Kadam Chris teachings are always inspiring, uplifting & relevant to everyday life. Through his gentle and joyful approach and his peaceful example, he has helped many people find true happiness in their hearts.
---
Meditations
Gen Kelsang Tharpa is a close disciple of Venerable Geshe Kelsang Gyatso and a senior teacher of the New Kadampa Tradition who has been teaching Modern Buddhism in Spain, Portugal and England for over 30 years. He has a great ability to convey the profound Buddhist path of wisdom and compassion with clarity and the depth that comes from his personal experience. Both beginners and more senior students enjoy Gen Tharpa's profound understanding of Dharma as well as his simplicity, wise counsel and a good sense of humour. He is a living example of how to practice the Kadampa way of life in the modern world.
Contact Information
KMC Southampton
21 – 22 Hanover Buildings
Southampton
SO14 1JU
Tel: 02380 482696
Newsletter &/or WhatsApp Signup